The Uwell Caliburn G Pod System is a compact open pod designed for freebase and nicotine salt e-liquids. Featuring a light aluminum chassis, 690mAh battery, draw-activated firing, a replaceable pod, and coil. This kit is the perfect addition for any novice or seasoned vaper on the go.
Uwell Caliburn G 15w Pod System
The Uwell Caliburn G 15w Pod System has a lightweight aluminum chassis making it as light as a feather as its zinc alloy counterparts. Packed tightly in the device is a 690mAh internal battery, which can be recharged through a USB Type-C port at the base of the device. Not only can it be fired via a draw-activated sensor, but users can utilize the on/off switch for a more tactile vaping experience. The Uwell Caliburn G has a 15W maximum wattage output, paired with the Uwell Caliburn G Replacement Pods, making for an excellent vaping experience. The device features a three-colored LED light below the firing button towards the base to view the battery life. A green LED indicates 100% to 60%, blue at 60% to 30%, and red below 30%.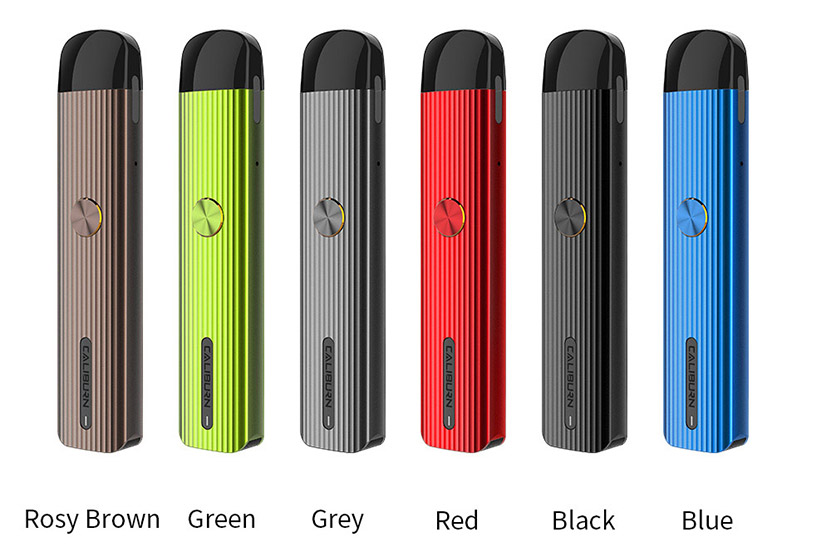 UWELL CALIBURN G POD SYSTEM REVIEW
Each Uwell Caliburn G 15w Pod System has a 2ml e-juice capacity which can be used with freebase or nic salt e-liquid. The Pods can accept the Uwell Caliburn G Replacement Coils. These coils come in a 0.8-ohm mesh variant, designed to be vaped around 13 to 18W. Each Caliburn G re-fillable pod features a press-fit connection and fits tightly into the housing. The housing that holds the pod in place has a side view window allowing users to check their juice level without casually removing the pod.
Regarding flavor production, the Caliburn G Coils utilize a mesh coil configuration creating intricate and detailed flavors. Re-filling the pod can be easily done by simply removing the top mouthpiece and filling via a "press and fill" port. As an added feature, each pod has a switchable airflow control and can be in a DTL or MTL airflow draw. The Uwell Caliburn G Pod System is a great device for any vape enthusiast who prefers a pocket-sized device for on-the-go applications.
Uwell Caliburn G 15w Pod System Specifications
All-in-One System
Draw Activation Firing
Voltage Based Output
15W Maximum Output
Aluminum Alloy Chassis
690mAh Internal Battery
USB Type-C Charging
LED Light Indicator
Integrated Protections
Short Circuit Protection, Low Power Indication, Vaping Overtime Indication
Low Battery Indication
Green LED: 100% to 60%
Blue LED: 60% to 30%
Red LED: 30% and Below
Compact Form Factor
108.3mm by 22.5mm by 12.6mm
Uwell Caliburn G Replacement Pods
2ml E-Liquid Capacity
Re-Fillable
Press to Fill
Single Port
Minimum Fill Line
Press Fit Connection
Gold Plated Contacts
Uwell Caliburn G Replacement Coils
0.8 ohm UN2 Mesh

13 to 18W

Single Mesh

DTL
DESIGN AND BUILT QUALITY OF UWELL CALIBURN G:  
Uwell Caliburn G Pod is made of aluminum alloy and plastic. Available in 6 colors: rosy brown, green, gray, red, black, and blue. Equipped with a board that delivers up to 18 watts. Powered by new UN2 evaporators. It can work automatically from auto-traction and the fire button.
Uwell Caliburn A2 has also taken the market and internet by storm because of its sleek design. No wonder everyone, including myself, is using uwell vape products. 
Uwell Caliburn G: The Good, the Bad, and the Ugly
The biggest question I will be asked is if I like it over the original or if it is worth it. The bottom line for me is if there's nothing wrong with your original Caliburn, it isn't worth it. It actually may be too strong for the salts you were using. Beyond that, it's a damn good device.
The flavor is stellar, the coil life lasted me 30-40mg which is great. These are all good things, however, I have to point out a few things. This isn't like a new Caliburn, it just vapes differently. Battery life lasted through a day BUT BARELY. It seems like the extra wattage offsets the battery life, so don't expect to see an improvement in that department over the original.