Uwell Caliburn Pod Description:
Uwell Caliburn pod cartridge (4-Pack), a set of replacement pods engineered for the Caliburn KOKO Pod System, maintaining many of the same features as the compatible Caliburn Replacement Pods, changing the internal 1.4ohm coil for a better outputting 1.2ohm kanthal coil.
The Uwell Caliburn pod cartridge has a top fill system and can accommodate 2ml of your e-liquid. KJ Uwell CALIBURN Pods (4-Pack) are a set of food-grade plastic pods featuring a 2.0mL refillable pod, 1.4 ohm Pod Coil Resistance, and possesses a top fill system, stoppered by the top cap drip tip mouthpiece.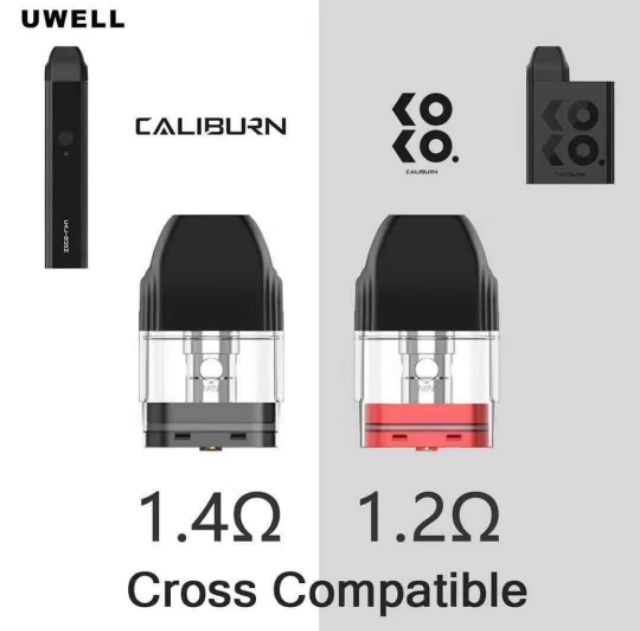 Uwell Caliburn Pod Cartridge
The UWELL Caliburn pod cartridge is a set of food-grade plastic pods featuring a 2.0mL refillable pod, 1.4ohm Pod Coil Resistance, and possesses a top fill system, stoppered by the top cap drip tip mouthpiece.
2ml Capacity Juice Pods
Pod Coil Resistance: 1.4ohm Caliburn & 1.2 Koko pod
Food Grade Plastic Pod Construction
Dual Port Top Fill System – Top Cap Drip Tip
How to use Uwell Caliburn Pod Cartridge:
The UWELL Caliburn pod cartridge comes with new 1.2ohm pods, and 1.4-ohm pods and there are four of them in the box. These are red at the base to differentiate them from the original Caliburn pods which are black at the base. If you still have Caliburn pods, you'll be happy to know that they'll work in the Koko. The Koko pods will also work in the Caliburn.
The top cap on the pod pulls off and this gives access to the fill port. It's a pain to remove sometimes but it's definitely secure.
Once the top cap is off you'll see three holes, but the middle hole isn't for filling. Only fill through the holes on either the left or right side. I'd suggest a pointy-tip bottle for filling, droppers can be difficult to use without making a mess.
The pod attaches magnetically to the Koko but you still have to click it into place. Once the pod is seated there's no wiggling and it's very secure. There's a convenient juice viewing window on the side of the pod so that you can see your juice level without having to remove the pod.
Warning: If the coils have a sub-ohm resistance, please make sure you have a great understanding and technical knowledge of using mods and batteries that can handle Sub-Ohm coils. Do not use a short or flat 510 connection on any hybrid or hybrid-style device. If you are not familiar with or unsure of particular products or setups, please do not use them. Always use proper precautions and handling.
Note: There is always an inherent risk when using any rechargeable batteries Anytime and under any circumstances. Vape shop and any of Vapedazzle's parent and subsidiary companies are not held responsible for any damage or modification of the pods, chargers, devices, and other products that we carry in any form or shape; this includes pack making.
Vapedazzle and any or all of vapedazzle.AE -parent and subsidiary companies will not be held responsible or liable for any injury, damage, or defect, permanent or temporary, that may be caused by the improper use of a Li-ion (Lithium-ion), LiPo (Lithium-ion Polymer), and any rechargeable battery/batteries as well as chargers. Please understand the batteries/chargers you are using and how to care for them properly.
When working with Li-ion (Lithium-ion), LiPo (Lithium-ion Polymer), and any rechargeable cells, please be cautious and carefully use them as they are susceptible to charging characteristics and may explode or burn if mishandled. Please make sure that you have excellent knowledge of all rechargeable batteries before using them. Always charge batteries on a clean and fire-proof surface. Never leave charging batteries unattended. If you see visible damage on the batteries, please do not use them. Always keep, store and transport the rechargeable cells in a safe, non-conductive container in a controlled environment.
Uwell Caliburn Pod Review:
Professional: Each market has products suitable for each market, so our products are very different from small to big puff. The appearance is also very different, which meets the needs of customers in the global market.
All our batteries use pure cobalt cells. We offer high quality, reasonable prices, and professional service.
Cost-effective. We not only provide the highest quality products but also help you save money.
Quality Guaranteed. We take responsibility for everything we sell, we only offer high-quality products.
Fast and safe shipping. We facilitate shipping with a few different shipping companies. This means we can handle all your shipping needs, including shipping by air, shipping by sea, shipping by express, and so on. The shipping companies we work with have long-term experience in the shipping industry and can always offer us the most cost-effective shipping solution for our customers from different countries. Providing safe and fast shipping is always one of our advantages.
Mature After-Sale Service: Long time warranty time. Fast response to defective or broken products. Provide assistance to the customer until the problem is resolved.
Quality assurance
Every production process has a special person to test to ensure quality.
Have professional engineers check the quality.
All products have passed CE, FCC, ROHS, and other certifications.
*WARNING: This product contains nicotine. Nicotine is an addictive chemical.
IMPORTANT SAFEGUARD
Please keep out of the reach of children and pets.
DO NOT use the leaking battery or other exception (hot, deformed, etc.)
The product should be placed in a low-temperature and dry environment when it is not in use
This product contains microelectronic components and sensors, which should avoid impact.
Q. Is any Uwell Caliburn pod Vape Shop near me?
A. Yes, Vape dazzle is the Best for Uwell Caliburn pod Vape Shop near you.
Uwell Caliburn pod buy in Dubai, UAE, Emirate Mall, Dubai Mall, Marina mall, Downtown, City Walk, Marina, Jumeirah, Palm Jumeirah, Bluewaters, AL Barsha. Abu Dhabi, Dubai, Sharjah, Ajman, Umm Al-Quwain, Fujairah, and the seventh emirate, Ras Al Khaimah.